Richmond Heights Athletic events will now admit
Parents of team players and Family members to attend home games.
The mask mandate policy will be in effect as well.
We look forward to seeing you at the Spartan Home Game Events!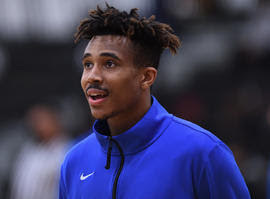 WE'RE PLAYING BASKETBALL! CAST YOUR VOTE FOR JOSIAH HARRIS!
RHLS
JAN 07, 2022
Spartan Nation,
Let's Stand Up! Our very own Josiah Harris is a contender for Top Power Forward in Ohio. This is Josiah's picture that is featured in the Newsbreak article via scorebooklive.com.
Take 2 seconds click, read the story, and then cast your vote for Josiah. He is on his way next year to play for Bobby Huggins at West Virginia. Who says D-1 players can't come from a small D-4 school?
By the way, he is a great student too. He received his Associates Degree from Lakeland while still enrolled in high school.
Let's blast this within our networks and on social media so Josiah can accumulate more votes. His competitors go to some BIG schools with lots of students and families. Go Josiah!