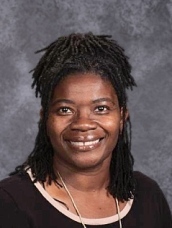 ELIZABETH TAYLOR
Elementary Principal
boyd.elizabeth@richmondheightsschools.org
(216) 692-0099 ext. 571323
Principal's Welcome
Greetings and welcome to Richmond Heights Elementary School!
It's a neeew day, and we are on our way....to SUCCESS!
I am very passionate about education and believe that all students can learn. The staff and I have been working very hard to provide a learning community that fosters educational excellence in a safe environment. I have no doubt our students will reach new heights this year and we are looking forward to partnering with you to build a culture of acceptance, cooperation, and pride.
Our students are scholars, and we will start each day with a positive affirmation to remind us of our worth, our value, our rights, and our responsibilities to the overall learning community. Our students will be challenged with a rigorous curriculum that is aligned to Ohio's Learning Standards. Students are not only being prepared to achieve on our state assessments, they are being prepared to be productive citizens who can navigate in our evolving global community. Our teaching and learning is supported by the AVID (Advancement Via Individual Determination) Framework, where learning and organizational strategies are used to support students in becoming college and career ready. Our students will need to be ready for a world that doesn't even exist right now. The staff and I are committed to preparing our students to be able to use 21st century competencies such as critical thinking and problem solving, creativity and innovation, collaboration and leadership.
I'm very excited about the "dawning of this new day." Our students will be engaged in meaningful learning experiences that will cultivate a love of learning and an appreciation for the gifts and talents of others.
The school day begins at 8:30 am and ends at 3:00 pm. It will be important for each student to be POLITE, PREPARED, and PRODUCTIVE at school each day.
Once again, on behalf of myself and the staff of the Richmond Heights Elementary School, WELCOME!
Your partner in education,
Elizabeth Taylor Boyd
Principal
7/2019