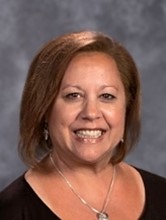 Kathy Bendes
Registrar
bendes.kathy@richmondheightsschools.org
(216) 692-7395
STUDENT REGISTRATION INFORMATION
Welcome to Richmond Heights Registration!

Thank you for choosing Richmond Heights Local School District. Please be informed of the following procedures for registering your child. To register your child, please complete a Registration Packet and call (216) 692-7395 to schedule an appointment. Registration packets are available by clicking on the link on the right side of this page. In addition, you can visit our Elementary School Building to pick up a hard copy of the application.

Registrations are by appointment only. Please complete our registration packet prior to your scheduled appointment. A parent or legal guardian must be present when registering.

Please supply the district with the following documents:
A current Driver's License or current State ID of the adult registering the student (s)

Original or certified copy of child's Birth Certificate

Child's Social Security Card

Notarized Residency Affidavit found in the registration packet submitted with appropriate documents (lease, mortgage, or deed). The district will not enroll without proof of residence

A copy of the child's Immunization record signed by their Primary Care Physician or copy from previous school

Stamped, certified copy of court order establishing custody or guardianship (if applicable)

Records from previous school such as Transcripts or last grade report, IEP and ETR (if applicable)

Withdrawal Form from previous school
If you are unable to provide ALL documents at the time of enrollment, your child/children cannot begin school until the registrar's office is in receipt of a complete enrollment package. Please refer to the enrollment package for the required documents.
We are excited to have you join us and look forward to meeting with you soon!
OPEN ENROLLMENT INFORMATION
The Board of Education will permit students from other Ohio school districts to apply for open enrollment in the District's schools free of any tuition obligation, provided all procedures outlined in the administrative guidelines are met, including capacity limits by building, grade level, and educational programs.
Timeline:
June 15, 2021
Applications available for open enrollment transfer requests for the 2021-2022 school year.
July 1, 2021
Application deadline closed for inter-district open enrollment. Parents requesting that their child begin the 2021-2022 school year must submit the application for open enrollment no later than midnight June 30, 2021.
July 31, 3021
All requests submitted by June 30 will be acted upon no later than July 31. Parents and superintendents of other Ohio districts will be notified of approvals.
Within two weeks of approval, parents must sign and return the inter-district transfer acceptance form.
Administrative Guidelines:
RHLSD may deny open enrollment applications for students seeking pass-through opportunities such as Excel TECC or CCP.

Applications may be rejected for students that have been suspended or expelled for ten days or more during a semester or for students that have been convicted and/or ruled a delinquent.

High school students who are credit deficient may be denied enrollment.

Consideration for open enrollment is subject to building capacity and class or program size and limitations.

The number of openings for students from other Ohio districts will be determined by optimum size for a particular classroom/school building or grade level which is the number of students that can be accommodated without increasing District expenditures for staff, space or equipment.

Enrollment priority shall be given to resident native students, first and foremost. Resident native students of the District will not be displaced by open enrollment students under any circumstance.

Children of nonresident employees will be given the second order of priority.

Students who have siblings enrolled in the District will have the third order of priority.

The final priority will done by lottery if necessary.

Students approved and enrolled in a school through open enrollment may continue in the District through all grades without reapplying.

Students that move out of the District during the school year must apply for open enrollment in order to remain in RHLSD. Attendance and discipline may have an impact on approval to stay.

The RHLSD does not provide transportation to open enrolled students.

The District shall not discriminate against any disabled students (IDEA or 504). The District shall not be required to provide any services or adapt any facilities not already provided to disabled resident native students.

Open enrolled students that participate in athletic programs governed by the Ohio High School Athletic Association (OHSAA) will be subject to the rules of OHSAA pertaining to eligibility.

All approved applications will require parents/guardians to complete and submit regular school enrollment information as listed in the General Enrollment Section.

The Open Enrollment Policy for the RHLSD will be reviewed annually by the Board to determine whether to adopt a resolution to continue the policy or to rescind Inter-District Open Enrollment in accordance to Ohio Revised Code 3313.97 and 3313.98.
"It's a New Day for the Richmond Heights Way"